04.09.2018 – 11.11.2018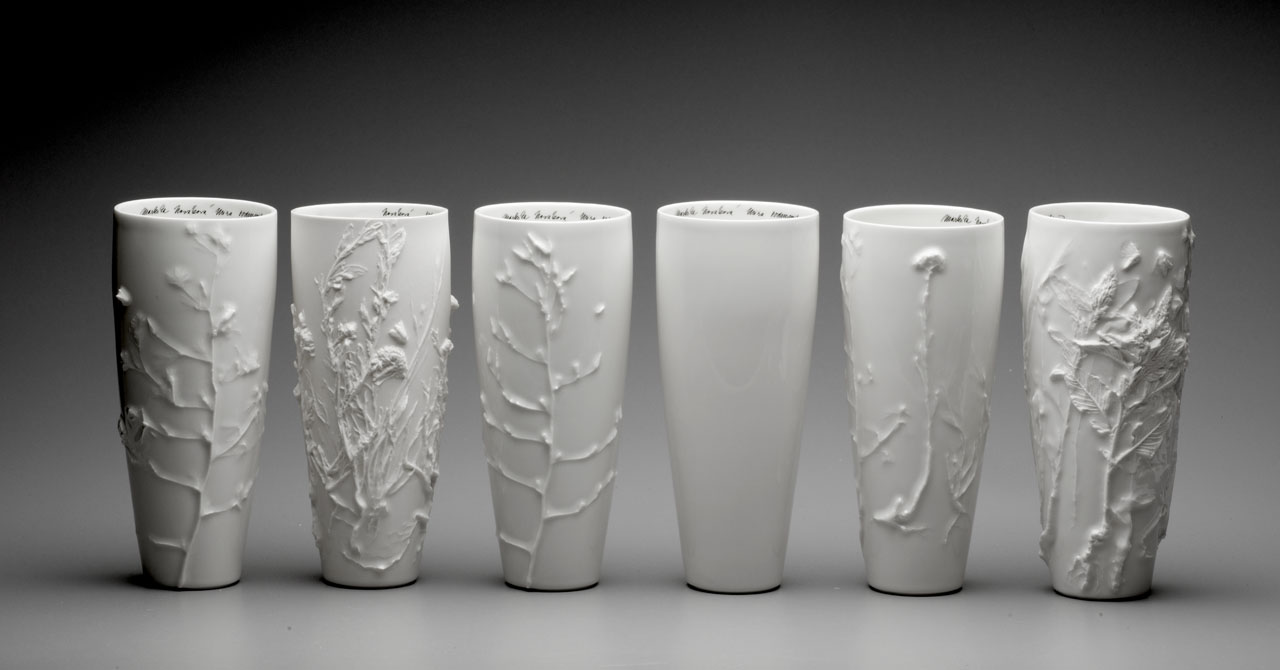 This exhibition of the experimental approaches to producing ceramics and porcelain found among students at European universities, their educators, and invited guests presents the outputs from one of the modules of an international grant within the "Creative Europe: Ceramics and Its Dimensions" program and the related sub-project Shaping the Future. The sub-project began with a workshop on the premises of the Kahla Porcelain factory in Germany gathering together students, teachers and other stakeholders from the four partner universities with the aim of exploring the material of ceramics and the associated new technologies. The participants explored various themes: Global Futures: Environment – Ecology – Economy, Societal changes, 3D printing – Old technologies revisited, and Food culture: impact on ceramic concepts.
Riikka Latva-Somppi, exhibition curator, observes on the subject: "Workshop openings grow into well-designed projects, and objects themed by food cultures use new technologies in their production or to reflect societal changes. Old technologies meet the new. Function is the focus here, but we also need irrational thinking resulting in seemingly crazy and useless applications – in the end, these may develop into the most revolutionary innovations."


Czech participation in the exhibition

The exhibition has traveled the cities of Europe since 2016, and has its final reprise in Prague. During the preparations of the Prague exhibition, cutaror Milan Hlaveš and Dita Hálová mapped out seven studios at five institutions of higher education in the Czech Republic and one in Slovakia. They monitored the outputs from final-examination and diploma-thesis exhibitions with a view to the main topic of the exhibition, whose goal is to describe developments in current ceramic and porcelain design.
Czech and Slovak projects have an artistic level comparable with that abroad. A number of original artistic paths have also appeared in the area of modern technologies, and the latest generation of designers is making abundant use of them. Four studios are focused on work with ceramics and porcelain, while another three focus on industrial and product design – only a part of their work is with ceramic materials. The works of students at both types of studios are on the same professional level, differing only, perhaps, in their artistic and technical treatment. Just as in the European part of the exhibition, here as well students are supplemented by some of their educators and by guests from among the ranks of designers. They both influence the youngest generation as educators and experiment in their own works and are in many cases doctoral students themselves. These include for example Markéta Nováková and Mira Podmanická, Milan Pekař, Petr Stehlík, Studio Vobouch (Markéta Kalivodová and Richard Švejda), Matěj Polách and Vojtěch Říha (Superior Object), Roman Šedina, and Zuzana Knapková. Just like their students, they too often work at the borderline between design and the fine arts.


Ceramics and its Dimensions project
Ceramics and its Dimensions project is broad in scope. It offers a survey of the past and present of European ceramics and supports their innovation potential. It is supported by the European Union's "Creative Europe" program, an activity framework for eighteen leading European museums and universities that are active in ceramics. They are headed by Porzellanikon, a porcelain museum in Selb, Germany.

The exhibition includes active zones in which you can get to know the traditional techniques used in creating ceramic objects and vessels, along with various processes for producing a porcelain mug, and try out designing your very own ceramic vessel.
The Museum of Decorative Arts – main building
17. listopadu 2
110 00 Prague 1
Opening Hours
Wednesday – Sunday 10 a.m.–6 p.m.
Tuesday 10 a.m.–8 p.m.
Monday closed
Addmission
full CZ 150 | concession CZ 80 | family CZ 250