01. 07. 2023 – 15. 10. 2023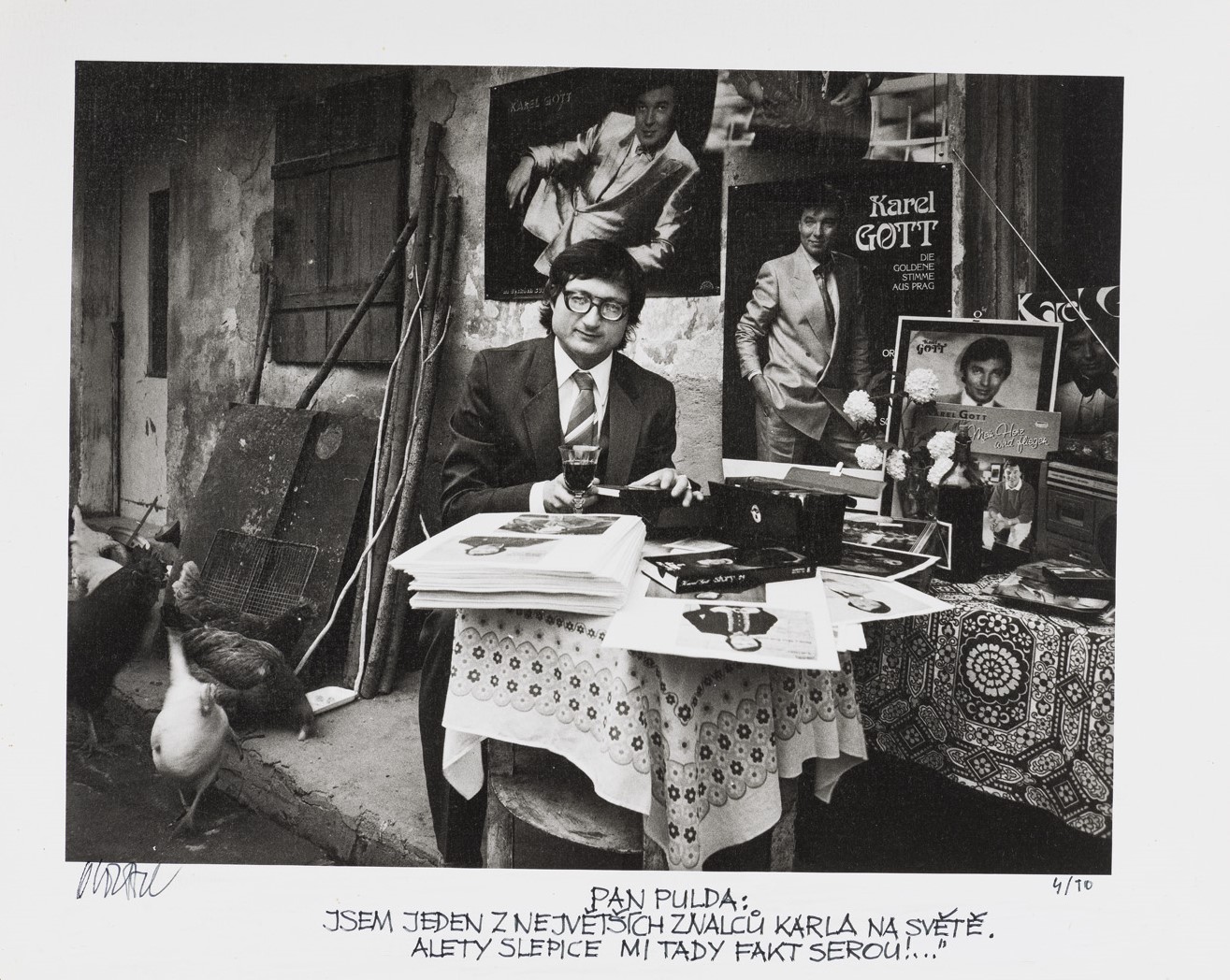 Curator: Jan Mlčoch
Graphic design: Štěpán Malovec
Glozar's series of photographs Portraits dates largely from 1986–1988. The photographer picked distinctive individuals from Czech society who, in one way or another, defied the standard, narrow social template. These were random acquaintances he had met by chance and took their pictures; the photos are complemented either by brief authentic statements or descriptions of the encounter. Shown in this small exhibition are the unhappy janitor, the laughing fireman, the proud collector of the Czech singer Karel Gott paraphernalia Mr. Pulda, and the widow of a bird woodcarver in Podskalí. Glozar's images of striking individuals include the well-known Countess (Hraběnka) who frequented Hotel Evropa on Wenceslas Square, and Mancika – a snake lover and lifelong partner of Binny Laney who was regarded by his contemporaries as the oldest Czech rock musician (Sputnik, Hells Devils, The Primitives Group, etc.). Then there was Svatý Vincent, by the civilian name of Vincent Venera – a painter and musician, and a conspicuous figure who roamed the streets of Prague's Malá Strana in the 1980s and, during his exile in the United States, was reputedly an occasional porn actor. Thanks to Vincent's friend Pablo de Sax, Venera's one-of-a-kind statements were recorded in book form, which in their openness put to shame the entire punk scene of those days. Jan Glozar incorporated into his series other fellow citizens as well but regrettably little has survived of those prints, some of which are preserved in a damaged state. His photographic output was mostly associated with the legacy of the New York photographer Diane Arbus who was a major revelation for Czech photographers in the 1970s. Glozar's photography of that time, though, is of a different nature: it captures a very different milieu, different society and different contexts and, furthermore, is peppered with a grain of Central European irony and hyperbole. Yet both photographers shared an interest in lost souls and the underdogs of society, for which we regard their photographs as highly personal.
Premiered at this exhibition is Glozar's unique collection Vltavěnka, which rather than a portrait series is an extraordinary cycle of photographs capturing in raw form an old woman living in a world of her own near the Slapy Dam on the river Vltava. Here, too, we can admire the sensitivity with which he approached the photographed individuals and the fact that these often complicated folks accepted him. Our small display commemorating this noted photographer and original personality is accompanied by several artefacts kindly loaned by Pablo de Sax.
Úvoz 24
Praha 1–Hradčany
Opening Hours
from April to September Wednesday, Saturday and Sunday 12am–6pm
from October to March Wednesday, Saturday and Sunday 11am–5pm
On 21 and 28 January the gallery is closed for technical reasons.

Addmission
full CZK 40 | concession CZK 20 |