permanent exhibition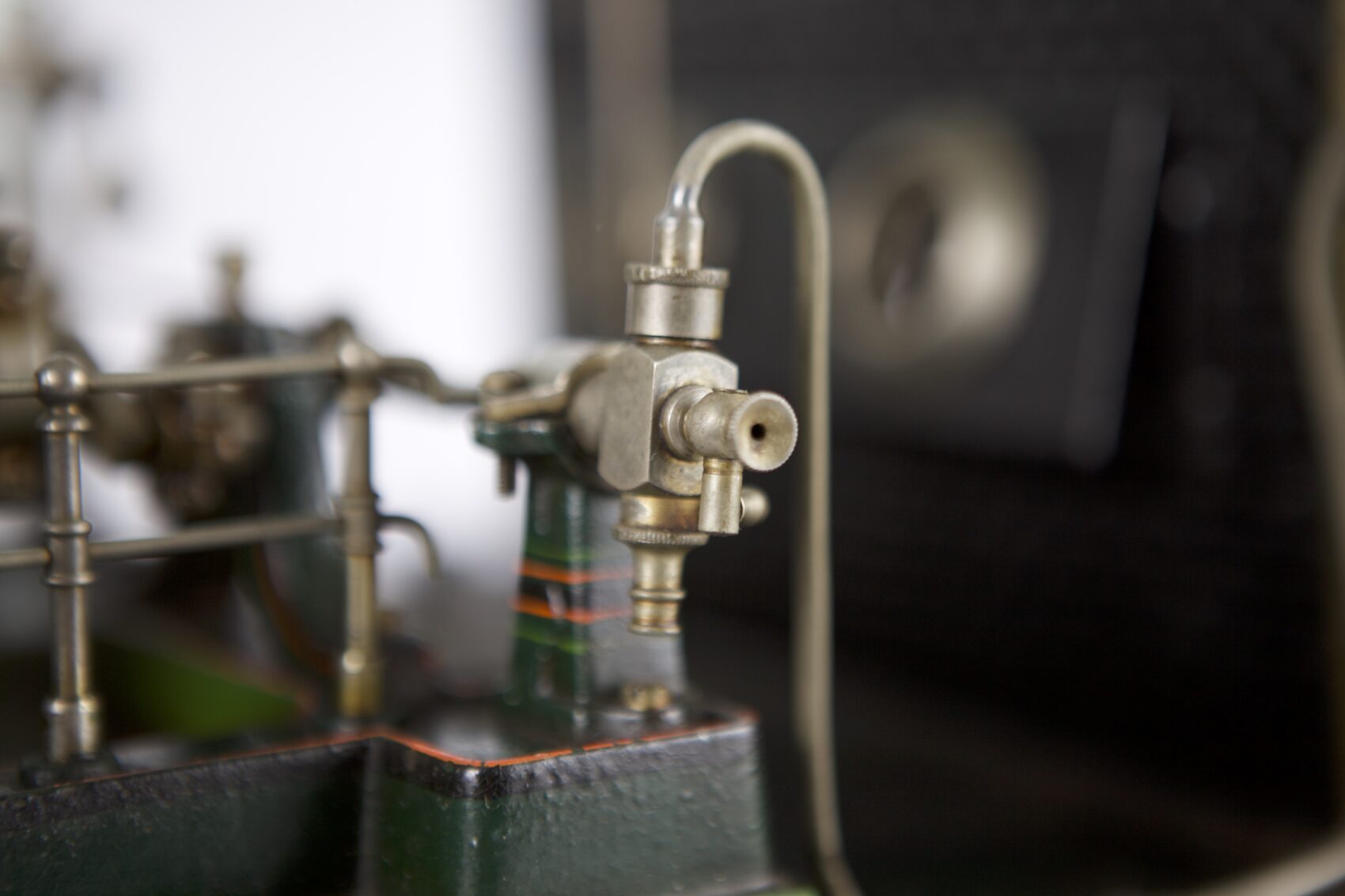 The new visitors' route is a particular treat for boys and their dad or granddads. While visitors to the chateau already know the large collection of Matchbox models produced by the English Lesney company in 1947–1982, this is the very first time the museum presents a rare collection of steam engines dating from 1870 to the present.
These steam-powered toys were loaned to the Museum of Decorative Arts in Prague by Roman Hedvičák, who has been collecting the little steam engines for nearly four decades. He has lent 225 object for display, of which 150 are original and fully functional, as well as thirty pieces of auxiliary equipment, period catalogues and prospectuses, and the current offer of a number of renowned firms. Some selected items can be touched and handled, and every other hour on the hour there is a working Wilesco steam engine on view in the playroom. The core of the collection is comprised of toys of German origin dating from 1900 to 1935, but there are also a few truly "prehistoric" pieces from 1870–1900, as well as other European and American products and also a nearly complete representation of Czech-made steam-propelled toys.
With their phenomenal success, Matchbox toys have been enjoyed by several generations of children and adults. Lesney was a British industrial company that began manufacturing miniature die-cast models of cars, machinery and various types of toys in the late 1940s. The Matchbox brand refers to the way the models were designed to fit inside a match box: the packaging was inspired by the Norvic boxes produced by Czechoslovakia's SOLO Sušice match manufacturer. In the Czech milieu, these models became extremely popular (this popularity is attested by their Czech name angličáky meaning "English cars") for their extraordinary precision that copied the originals down to the minutest details, as well as their functionality, bright colours and high durability. The exhibition showcases some 400 models, ranging from the first toys dated to the late forties and the fifties, to models of vintage cars produced fairly recently.
The visitors' route includes the Grilles, Keys and Locks display in the chateau's Renaissance hall – the first permanent exhibition exploring these crafts in the Czech Republic. It shows examples of medieval, Renaissance and Baroque grilles and balustrades, as well as historic locks, keys, door knockers and decorative ironwork dating from 15th throughout the 19th century. The hands-on programme invites visitors to try out the mechanisms of locks and knockers, or to activate the wrought-iron dragon.
Installed in the chateau's cellars is the monumental object "Journey" created by the glass artist and sculptress Alena Matějková.
Náměstí Československé armády 1
Kamenice nad Lipou
Booking office +420 565 432 667
Opening Hours
from May to September Tuesday–Sunday 10am–5pm, Monday closed
April and October Tuesday–Friday 10am–3pm, Saturday and Sunday 10am–5pm, Monday closed
from November to March Tuesday–Friday 10am–3pm, Saturday–Monday closed
Addmission for the exhibition:
full CZK 150 | concession CZK 60 | family CZK 240